Description & Background
"Protection of conduits and other penetrations through embankment dams cannot be overstated. These conduits establish a preferred seepage path directly through the embankment from the reservoir to the downstream toe." ¹ "Most designers of embankment dams have attempted to include defensive design measures to address potential seepage along conduits extending through earthfill or earth- and rock-fill embankments. Even so, many observed failures and accidents of embankment dams have occurred, involving conduits or the earthfill near the conduits." ² Approximately 25 percent of all embankment dam failures are a result of internal erosion or backward erosion piping associated with conduits.
"Until about the mid-1980s, the most common approaches for controlling seepage were anti-seep collars (also known as cutoff collars) and careful compaction (special compaction using small hand held compaction equipment) of backfill around conduits. Anti-seep collars are impermeable diaphragms, usually of sheet metal or concrete, constructed at intervals within the zone of saturation along the conduit. They increase the length of the seepage path along the conduit, which theoretically lowers the hydraulic gradient and reduces the potential for backward erosion piping.
"Anti-seep collars were designed primarily to address intergranular seepage (flow through the pore spaces of the intact soil). Anti-seep collars did not fully address the often more serious mechanism of failure (internal erosion), that occurs when water flows through cracks and erodes the compacted earthfill near the conduit outside the zone of influence of the anti-seep collars in the compacted earthfill near the conduits. In the 1980s, major embankment dam design agencies including the U.S. Army Corps of Engineers (USACE), and the Bureau of Reclamation (Reclamation) discontinued using anti-seep collars on conduits for new dams. Reasons why anti-seep collars were abandoned include:
Anti-seep collars impeded compaction of soils around the conduit.
Anti-seep collars contributed to differential settlement and created potential hydraulic fracture zones in the fill.
Designers realized that problems associated with conduits were more likely to be caused from internal erosion mechanisms than from intergranular seepage.
Designers achieved increased confidence in the capability and reliability of filters to prevent internal erosion failures.
Anti-seep collars can form a foundation discontinuity that could result in differential settlement and cracking of the conduit.
"The Natural Resources Conservation Service (formerly Soil Conservation Service, SCS) also discontinued using anti-seep collars on new embankment dams, but continues to allow them on small, low hazard dams and only under certain restrictive conditions." ²
---
References:
(1) FEMA. (2011).  Filters for Embankment Dams:  Best Practices for Design and Construction.  Federal Emergency Management Agency.
(2) FEMA. (2005).  Technical Manual:  Conduits through Embankment Dams - Best Practices for Design, Construction, Problem Identification and Evaluation, Inspection, Maintenance, Renovation, and Repair.  Federal Emergency Management Agency.
Summary
Case Studies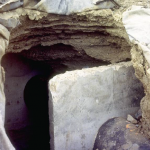 Anita Dam (Montana, 1997)
Anita Dam is located about 22 miles north of Chinook, Montana, about 5 miles south of the Canadian border. The drainage, which normally flows only in response to snowmelt or heavy rain, is an unnamed tributary...
Additional Case Studies (Not Yet Developed)
CSC Orchard Frost Protection Pond (Washington, 1995)
Pablo Dam (Montana, 1991-2004)
Piedmont Driving Club Dam (Georgia, 2004)
Best Practices