Description & Background
Lawn Lake Dam was located in Rocky Mountain National Park upstream of Estes Park, Colorado. It was an embankment dam and constructed in 1903 and owned by an irrigation company.  It fell within the National Park boundary when the Park was established in 1915. The reservoir was at almost 11,000 foot elevation and the dam enlarged a natural glacially-formed lake.  The dam was raised in 1931 to 24 feet high and stored a maximum of 817 acre feet of water. A 3-foot diameter, riveted steel outlet pipe was used for releases. A direct-buried gate valve was located in this pipe directly under the crest of the dam. The dam was assigned a "moderate" downstream hazard potential.
Due to its remote location with challenging access, inspections of the facility were relatively infrequent. A number of issues were identified at the dam documented in inspection reports in 1951, 1975, 1977 and 1978.
Between 5:00 and 6:00 AM on July 15, 1982, the dam failed suddenly, releasing 674 acre-feet of water. There was no warning. The peak flow was approximately 20,000 cfs. The failure flood changed as it went downstream due to the changing topography and the presence of a downstream dam.
From the dam, the flood charged down the steep channel of Roaring River. The flood swept away one camper. It eroded areas up to 50 feet deep. After dropping 2500 vertical feet over 4.5 miles, the flood poured out into Horseshoe Park – a relatively flat basin. There it dropped its load of boulders and debris and created an alluvial fan of over 40 acres.  A garbage truck operator observed the flood and called National Park personnel who began emergency response activities. The flood went out the east end of Horseshoe Park, filled and then overtopped a 17-foot-high concrete dam called Cascade Dam. The maximum overtopping was 4 feet. After 17 minutes of overtopping, Cascade Dam gave way and a new flood surge of 16,000 cfs poured through the breach.
Just below Cascade Dam was a campground. All campers had been evacuated, but two campers went back into the area and were drowned when the second flood wave arrived. The flood also destroyed a state fish hatchery.
The flood swept motels, residential structures, and mobile homes off their foundations. In the town of Estes Park, debris-laden, muddy water up to five feet deep  (6,000 cfs) poured through the business district. It damaged 177 businesses (over 90% of the businesses).  Damages totaled $31 million and a total of three lives were lost.
The event was declared a presidential disaster. The National Park Service was sued for not having a warning and evacuation plan for a known, manmade hazard within the park and compensated a next of kin $480,000.
The State Engineer performed an investigation and issued a report 8 months following the failure. The report concluded that "… the failure occurred due to leakage under high pressure from the leaded connection of the outlet pipe and valve, causing progressive piping of the dam embankment in the vicinity of the outlet pipe during periods of high reservoir levels and gate closure and sudden collapse of the embankment allowing rapid evacuation of the reservoir."
---
References
(1) Baker, M., McCormick, B. (2012). 30th Anniversary of the Lawn Lake Dam Failure - A Look Back at the State and Federal Response. ASDSO Annual Conference. Denver, Colorado.:  Association of State Dam Safety Officials
(2) National Park Service (1982). Managing the Risks of Dams - Featuring Lawn Lake Dam Failure. Video. National Park Service.
(3) Danielson, J. (1983). Investigation of the Failure of Lawn Lake Dam. State Engineer, State of Colorado.
---
This case study summary was peer-reviewed by Bill McCormick, P.E., P.G., Chief, Colorado Dam Safety.
Summary
Lessons Learned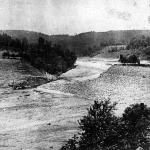 Dam incidents and failures can fundamentally be attributed to human factors.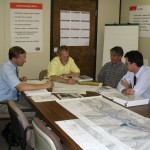 Emergency Action Plans can save lives and must be updated, understood, and practiced regularly to be effective.
Additional Lessons Learned (Not Yet Developed)
Pressurized pipes within embankment dams can lead to failure.
Upstream dam failures can fail downstream dams.
Many years of successful dam performance does not guarantee future successful performance.
Remote dams need to be maintained despite the access challenges.
Other Resources
Additional Resources not Available for Download
Danielson, J. (1983). Investigation of the Failure of Lawn Lake Dam. State Engineer, State of Colorado.
Graham, W. (2012). The Lawn Lake Dam Failure: A Description of the Major Flooding Events and an Evaluation of the Warning Process. Bureau of Reclamation.