Description & Background
Lake Delhi Dam was originally constructed by the Interstate Power Company between 1922 and 1929 for hydroelectric power generation. The dam was located in Iowa approximately 1.4 miles south of Delhi on the Maquoketa River and impounds the nine-mile-long Lake Delhi.  Reaching a maximum height of 59 feet, the dam consisted of four sections as follows (from left abutment to right, looking downstream):  a 60-foot long concrete-armored earthen embankment, a 61-foot long reinforced concrete powerhouse, an 86-foot long concrete ogee spillway with three control gates, and a 495-foot long earth embankment section with a concrete core wall.
Record rainfall and flooding impacted the state of Iowa during July of 2010.  As a result, the area draining to Lake Delhi Dam received approximately 10 inches of rain over the course of 12 hours. This caused overtopping of the dam and its eventual failure on July 24, 2010.  Due to the immediate action of state officials and emergency personnel, a large number of downstream residents were evacuated and loss of life was avoided.
Several deficiencies in the design and maintenance of the dam were discovered and determined to have led to its failure. The dam, which had maintained successful operations for over 90 years prior to the failure, was inspected by an Iowa Department of Natural Resources dam safety representative every five years.  During the 2009 inspection, repairs to one of the three spillway gates, which was inoperable at the time, were advised.  The Lake Delhi Recreation Association (LDRA), which owned and operated the dam, agreed to complete the repairs by the end of the calendar year.  Though repairs were initiated, it was clear that at the time of failure in 2010, the gate remained inoperable.  The inability to open one of the three spillway gates during the heavy rainfall of July 2010 only increased the potential for overtopping.
In addition to the maintenance issues at the dam, design deficiencies also became apparent after its failure.  As previously mentioned, the embankment section of the composite dam was strengthened by installing a concrete core wall.  However, the wall did not reach either the maximum height of the embankment or the maximum flood elevation.  This design oversight allowed the internal erosion of the embankment that contributed to its failure.
Confusion regarding the hazard classification of the dam during its design stages as well as throughout its lifetime further complicated the events of July 24, 2010.  Because the hazard classification of Lake Delhi Dam was never established, an Emergency Action Plan for the dam was never developed.  Fortunately, state officials and emergency personnel in the area on the day of the breach reacted to the disaster in an appropriate and efficient manner, relocating those in the path of the draining Lake Delhi Dam and sparing many lives.
---
References:
(1) McDaniel, L., Garton, J., Fiedler, W., King, W., & Schwanz, N. (2011).  Lake Delhi Dam Breach – Two Perspectives.  ASDSO Annual Conference.  Washington D.C.:  Association of State Dam Safety Officials.
(2) Van Aller, H. Dodging the Bullet:  Lessons Learned from Recent Dam Emergencies. Maryland Department of the Environment.
(3) Dam Overtopping and Breach Failures.  Dam Failures and Lessons Learned Seminar.  Denver:  Federal Emergency Management Agency.
Summary
Lessons Learned
Additional Lessons Learned (Not Yet Developed)
Cutoff walls can concentrate gradients and seepage flows.
Dams may overtop for floods more frequent than the design flood if the spillway capacity is reduced (due to debris plugging or gate malfunction) or if a gated spillway is not operated as assumed in design studies.
Engineers performing dam inspections and assessments should have a sound knowledge of the as-built features and common design practices in use at the time of dam construction to help them identify potential failure modes and other vulnerabilities.
Gates and other mechanical systems at dams need to be inspected and maintained.
Many years of successful dam performance does not guarantee future successful performance.
Spillway gates should be tested to the maximum extent possible on a regular basis to verify the performance of the electrical/mechanical system and to ensure that the gates can travel freely without binding or being restricted.
Warning time and rapid response is critical to saving lives during a dam failure emergency.
Other Resources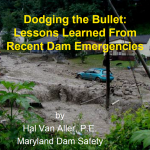 Author: H. Van Aller
Presentation from Maryland Dam Safety
Author: L. McDaniel, J. Garton, W. Fiedler, W. King, & N. Schwanz
Technical paper published by Association of State Dam Safety Officials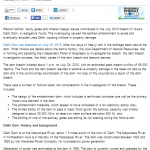 Author: W. Fiedler, W. King, N. Schwanz, J. Garton, & L. McDaniel
Renewable Energy World Magazine Online
Additional Resources not Available for Download
Dam Overtopping and Breach Failures.  Dam Failures and Lessons Learned Seminar.  Denver:  Federal Emergency Management Agency.
Wahl, T. Flood Overtopping Failure of Dams.  National Dam Safety Technical Seminar #20. Federal Emergency Management Agency.