Description & Background
The initial filling of a reservoir is the first test that the dam will perform the function for which it was designed. A carefully managed first filling is crucial to the future success of a dam. According to a study completed by the Bureau of Reclamation on internal erosion failure modes, "approximately two-thirds of all failures and one-half of all dam incidents occur on first filling or in the first 5 years of reservoir operation." ¹
Dams are constructed primarily to impound and store a large body of water. During the construction of a new dam, diversion channels and cofferdams are used to prevent water from entering the construction area. However, when dam construction is complete, flow to the dam site resumes and the reservoir begins to fill with water. The first filling of a reservoir can be defined as the increase in water level behind the dam from the time construction is complete until it reaches the desired operating level. Depending on the location, type, size, and intended purpose of a dam, the duration and rate of its first filling can vary. Regardless of whether it takes several months, several years, occurs naturally, or with the aid of pumping units, the first filling of a reservoir should be planned, controlled, and closely monitored in order to reduce the risk of failure.
Because the first filling of a reservoir is a critical phase in the life for the dam, it is vital for dam operators and engineers to have as much control over the first filling as possible allowing as much time as needed for appropriate surveillance, including the observation and analysis of instrumentation data. The first filling should be scheduled to occur after construction of the dam and all necessary appurtenances (i.e. spillways and outlet works) have been completed as well as the installation of appropriate instrumentation. Specifications regarding the rate of reservoir rise should be developed to allow the dam to adjust to the forces it will experience as the water level behind it increases. These plans should be documented in a design memorandum that may also include "reservoir regulations during project construction, a water control plan, project surveillance, cultural site surveillance, flood emergency plan, public affairs, safety plan, and transportation and communications." ²
In addition to dam failure, it is common for design, construction, and/or material deficiencies of a new dam to become apparent during the first filling. For example, evidence of seepage, cracking, and erosion are often noted when the reservoir is raised to new levels for the first time. Inspection and assessment of these potentially hazardous conditions prior to the completion of filling is important and it may be necessary to halt filling or in some cases lower the reservoir before the desired operating water level is achieved to investigate signs of seepage, cracking and erosion. Repairs to any project features that did not function as designed can be re-evaluated and modified to ensure the dam operates according to its original design.
---
References:
(1) USBR & USACE. (2012).  Internal Erosion Risks.  Best Practices in Dam and Levee Safety Risk Analysis Presentation Series.  Denver:  U.S. Department of Interior, Bureau of Reclamation.
(2)  USACE. (2004).  General Design and Construction Considerations for Earth and Rock-fill Dams, EM 1110-2-2300.  Washington D.C.:  U.S. Army Corps of Engineers.
Summary
Videos
Case Studies
Additional Case Studies (Not Yet Developed)
Wister Dam (Oklahoma, 1949)
Best Practices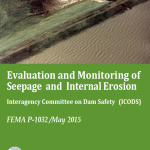 Author: Interagency Committee on Dam Safety
Date Published: 2015